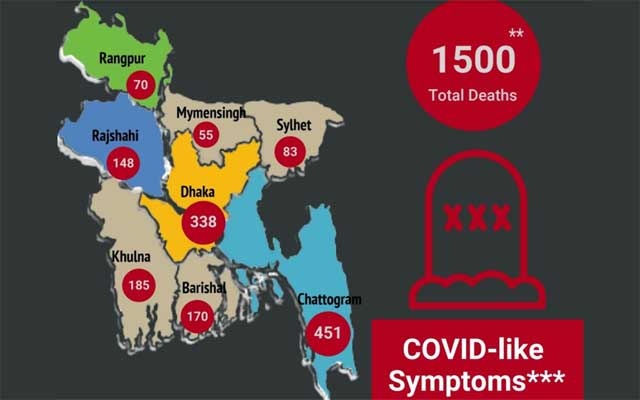 https://ssk.com.bd/
Bangladesh Peace Observatory or BPO, a research project under Dhaka University's Centre for Genocide Studies, revealed the information in the form of a graphical presentation titled 'COVID-19 Graphics'.
Funded by the UNDP, the BPO gleaned its findings from reports published in 25 news media outlets, including national and regional newspapers, online portals and television channels, from Mar 8 to Jun 27.
In the 12th 'COVID-19 Graphics' on Thursday, the BPO found that 198 people had died with COVID-19 symptoms across the country in the last week. The figure was 206 the week before.
No-one was reported to have died with COVID-19 symptoms in the first two weeks of the outbreak in Bangladesh. But three people reportedly to died with the symptoms between Mar 22 and 28, according to the report.
The figure jumped to 63 from Mar 29 to Apr 5. Over the following weeks, the tally was 106, 120, 114, 93, 50, 67,48,73, 154, 206, 205 and finally 198.
The tally of fatalities with coronavirus symptoms peaked at 451 in Chattogram division, followed by 338 in Dhaka, 185 in Khulna, 170 in Barishal, 148 in Rajshahi, 83 in Sylhet, 70 in Rangpur, and 55 in Mymensingh division, according to BPO.
The presentation also highlighted some other social and political issues that came to the fore during coronavirus epidemic.